Diamond Painting Supplier
Wholesale & Distribution
Our Diamond Painting Tape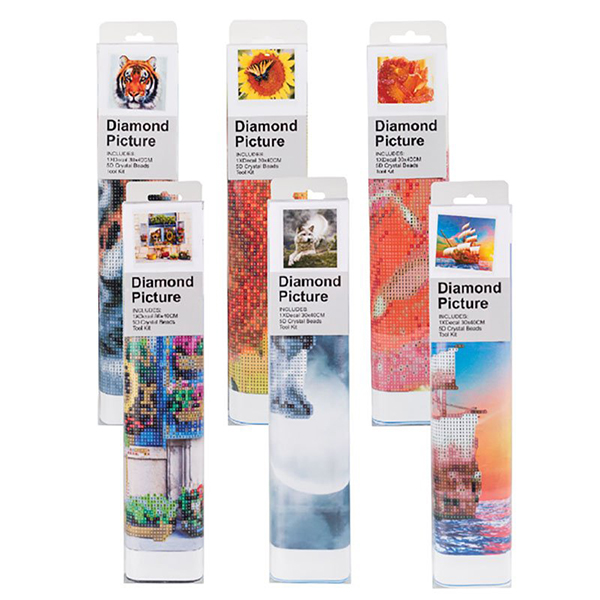 Factory Price : 1.9-2.4$ /Unit
Factory Price : 2.5$ /Unit
Factory Price : 0.7$ /Unit
Fashion Diamond Painting Supplier
Are you looking for a supplier of diamond paintings to purchase goods at the best possible prices? In that case, you've found the right place!
Amazing wholesale diamond painting products are available from fashion diamond painting to assist you in creating art. Our top-notch diamond art kits are ideal for small and large retailers alike, as well as mom and pop craft shops.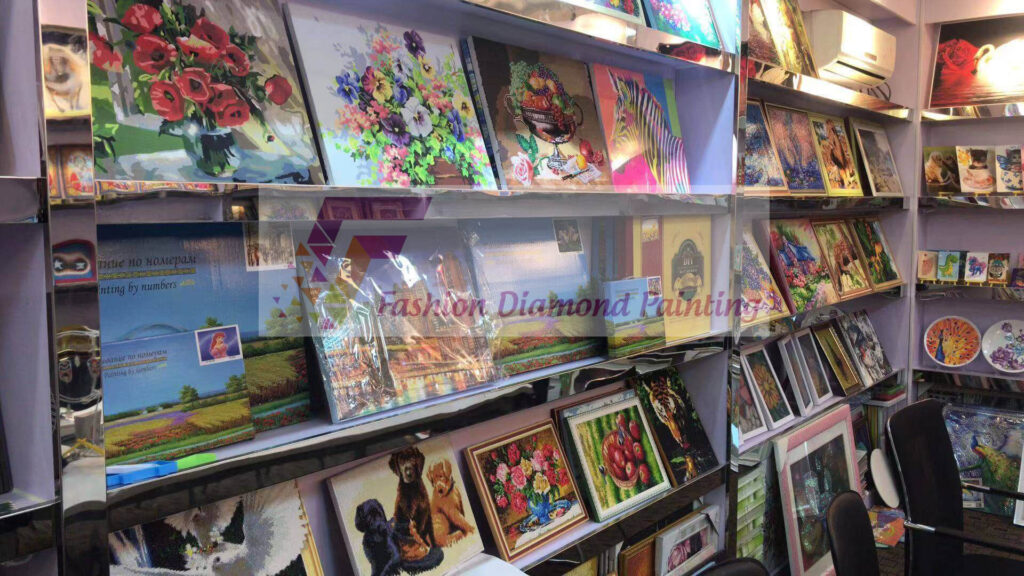 Buy Diamond Painting Wholesale From Us Because
We have our own employees and are a real factory.
We have a skilled team that creates fresh designs each month so you can update your inventory.
We can create diamond paintings that precisely match your requirements (in terms of size, color, brightness, and product style). We undergo rigorous quality control throughout the entire production process.
To create our products, we all use environmentally friendly materials and obtain EU and US certification.
Customize Diamond Painting Wholesale Supply
Create and grow your own diamond painting brand. Now you can be as imaginative as you like with your large diamond art project. We are able to manufacture any style of diamond painting to your exact specifications. All you need to do is provide us with the necessary details, and we'll take care of the rest.
At Fashion Diamond Painting, we can help you customize:
Painting (Canva, Photo, bookmark etc)
(12/24 color design) colors
Diamond-cut  (round, square, 3D, 5D,7D etc)
additional factors (package, accessories)
Need help deciding what specifications to choose? Don't worry, our expert advisers will help you choose the best diamond painting tape for your projects!
Diamond Painting Wholesale Buying guide
The best way to describe this wonderful but relatively recent craft is as a cross between cross-stitch and paint by numbers.
The "diamond" is actually made of resin stone. You're using "diamond cut" resin or acrylic rhinestones that do actually shimmer and shine—just like real diamonds—instead of threads and paint.
By using a color palette or legend, you adhere these diamonds (also known as "drills") to a sticky canvas in a manner akin to painting by numbers. Every image is organized according to a grid of square or round shapes with a symbol in the middle for each. Each individual drill is picked up and moved from a tray to the canvas using a stylus that looks like a hollow pen that is inserted into a piece of wax.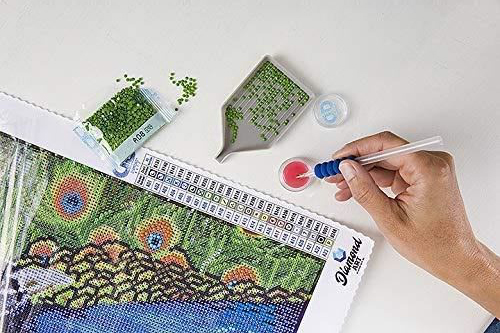 There are so many gorgeous and vibrant designs available. There is something out there for everyone, regardless of your interests or passions, whether they are animals, scenery, or famous people.
#1 Where Should You Buy diamond Painting wholesale?
It takes a lot of work to paint diamonds on wholesale projects. You must consider the design you desire as well as the required accessories, size, and packaging.
It takes a lot of time and effort to make each choice. However, once you've chosen the specific type of diamond painting tape you desire, the next step is deciding where to purchase it.
Manufacturer or wholesaler?
Since diamond painting are gaining popularity every day, you can see a mushroom growth of retailers that house all kinds of different diamond painting products. But should you buy diamond art in bulk from art wholesaler? Or should you choose diamond painting manufacturers? Look at the comparison chart to see why you should buy diamond painting art online in bulk from a manufacturer.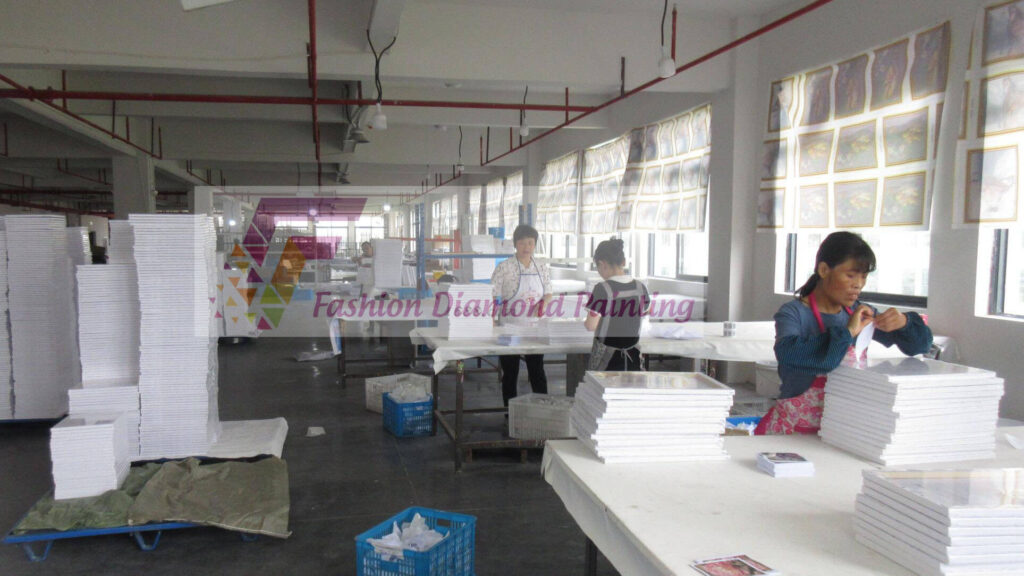 For Variation
Manufacturer: There is a wider selection of painting designs available from manufacturers of diamond paintings. They might be the first to house cutting-edge painting products because they have the capacity to produce diamond painting products.
Trader: Because they rely on manufacturers for their supply of products, wholesalers have a constrained selection of diamond painting products.
For Quality:
Manufacturer: By examining their painting production process and learning more about the QA tests they carry out, you can quickly assess the caliber of diamond painting manufacturers. Since they must adhere to specific industry standards, diamond painting manufacturers already produce better-quality goods.
A trader is someone who sells goods for diamond painting that they have purchased from producers or other suppliers. Therefore, it is challenging to evaluate the products' quality. Additionally, retailers frequently lack information about how diamond painting products are made, making it impossible to confirm whether the goods they sell adhere to industry standards.
For CUSTOMIZE:
Manufacturer: Diamond painting producers can make painted goods that are specially tailored to your needs.
Trader: Diamond Painting Wholesaler is unable to produce any items specifically for you. Only the products they sell are available to you for selection.
For AVAILABILITY:
Manufacturer: Diamond painting suppliers almost never run out of stock. They possess the capacity and infrastructure to reliably produce diamond Painting goods. This is why browsing a manufacturer's website will increase your chances of finding the diamond Painting item you're looking for.
Diamond painting wholesaler carries a small selection of LED products. Popular goods therefore quickly run out of stock. After that, the wholesaler must wait until the manufacturer produces the new stock. Then, this stock needs to be shipped or transported, which increases the amount of time it takes to get a single item.
For RELIABILITY:
Manufacturers of Diamond Painting are fully accountable for the goods they sell. Professional diamond painting manufacturers follow up with customers after the sale to find out if they are satisfied with their purchase in addition to offering warranties.
Manufacturer warranties are a requirement for diamond painting wholesalers. They are unable to assist with other technical problems or handle requests for troubleshooting.
It is preferable to select a diamond painting manufacturer for your wholesale art & craft orders because it gives you the chance to talk with a specialist about the specifics of your project. Good diamond painting producers can assist you in selecting the product that is most appropriate for your project.
Additional justifications for buying wholesale diamond paintings online include the following:
• Improved Access
You can browse every product a diamond painting manufacturer sells when you shop for diamond paintings online. Additionally, you can contrast the features and costs of diamond paintings provided by various manufacturing firms. You can buy more effectively as a result.
• Support
Experts are on hand to answer all of your design questions from reputable diamond painting manufacturers and suppliers. They can also assist you in picking the appropriate diamond painting supplies and extras for your project.
• Variety
The retail store of a manufacturer of diamond paintings might not carry every item they sell. However, you can find their entire catalog as well as any other information you require online.
• Availability
Each diamond painting product is available in a limited quantity in retail stores. But when you order online, that is not the case. Bulk orders are either shipped directly from the warehouse or created on demand. As a result, you will never have to wait for the diamond painting design you want to be back in stock.
#2 Things To Consider When Buying diamond painting wholesale
When purchasing Diamond paintings in bulk online, there are many factors to take into account. Make sure the diamond painting kits you select have the necessary technical specifications, shape, and size. Here are some additional things to think about:
Product Quantity
Double check your order's diamond pack quantity to ensure it is accurate. Different diamond painting producers use a variety of packaging sizes and methods. For instance, at Fashion Diamond Painting, where our diamond packs are machine-packed, we typically add 10% more diamond pieces to each pack.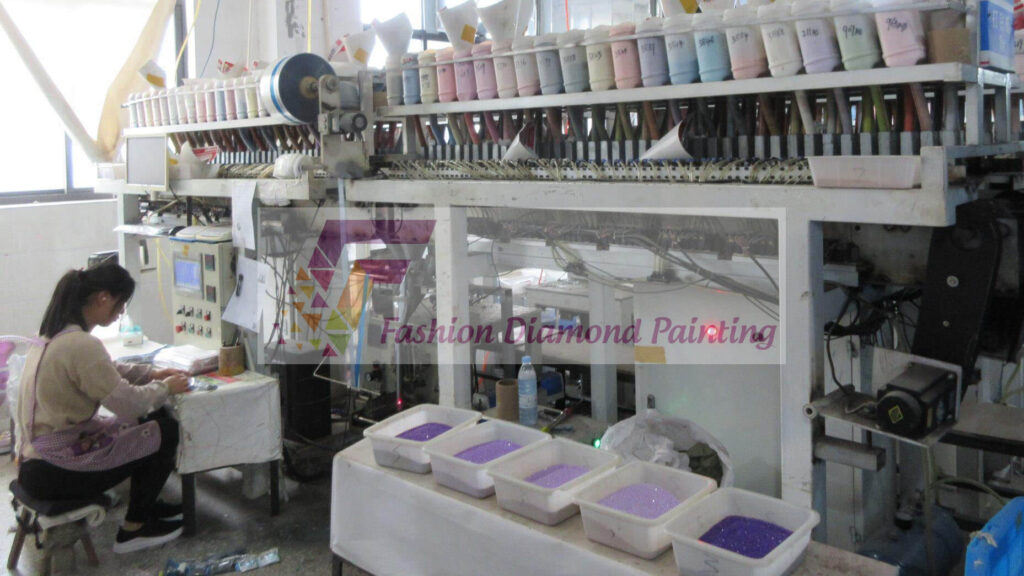 Product Quality
Before purchasing any diamond art kits, especially in bulk, it is crucial to inspect their quality. Look into the raw materials and procedures used in the diamond manufacturer's painting production process. Ask them about their quality assurance procedures and whether they hold any certifications that are applicable to your industry.
Delivery Time
Ask the diamond painting manufacturer or supplier to relay the exact time or timeframe it will take for your diamond painting order to be delivered. A lot of painting diamind manufacturing companies use third-party courier services to deliver their products. In this case, they should provide you with the tracking details so you can know when your painting products will arrive. Custom or bulk orders usually have longer Delivery times.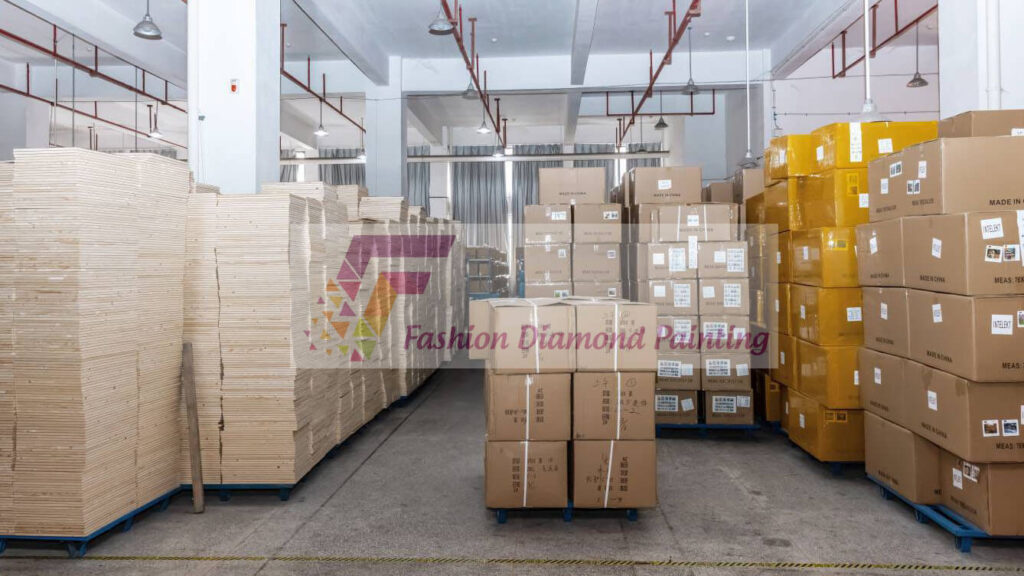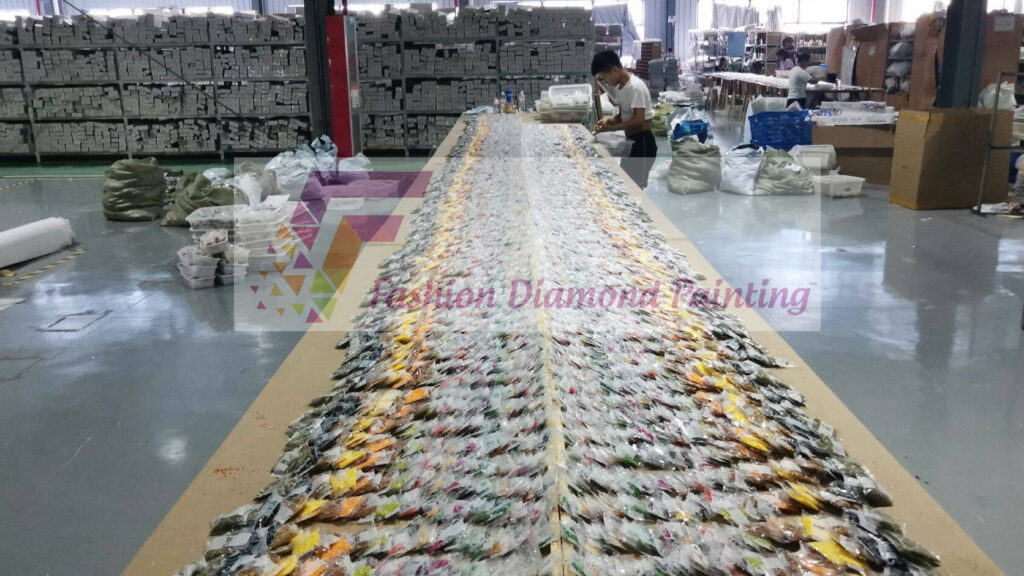 Accessories & Tools
It is advised that you purchase your painting tool and painting frame from the same diamond painting manufacturer in addition to the diamond art kits. This will make things more convenient and guarantee that all of the accessories work with your diamond painting products.
#3 How to Make Wholesale diamond painting Orders on fashion diamond painting?
Our goal at Fashion Diamond Painting is to make the purchasing process quick and easy. You can purchase all the supplies you require to complete your projects using our one-window approach to diamond painting products.
Our purchasing procedure is very simple:
Step 1: Form an Inquiry
All of our painting diamond products are provided with thorough technical specifications descriptions and any other information you might require to make an informed purchase decision. These details include the product's size, design, packaging, accessories, and more. Simply fill out the query form on each diamond painting product page after you find something you like and let us know what you need.
You don't need to visit any other pages to contact us because we've included a query form on each product page. You can ask as many questions as you'd like about as many diamond paintings. We will address each one of them.
You may not know what you're looking for or may have other inquiries. Simply visit our Contact page and submit your inquiry there. You will hear from a member of our team to talk about your concerns.
Step 2: Contact Us

Within 24 hours of receiving your inquiry, a member of our team will get in touch with you. Consult with a representative about your needs for diamond painting. Give us details about the kind of diamond paintings you want, their size, design, quantity, and any special requirements (customize the design or packaging, for example). For your project, our experts are excellent at recommending the ideal diamond painting products.
Already certain of the diamond painting item you desire? Simply speak with a representative to confirm the order's details, including the diamond painting's size, design, and item number.
After that, based on the diamond products you select, one of our representatives will provide you with a price quote.
Step 3 :Confirm your Order

Confirm your order at Fashion-Diamond-Painting after deciding what kind, type, color, and how many diamond paintings you want. We'll send you an email confirming your order, complete with the quantity, price, processing time, and payment details.
Step 4 :Sit Back, Relax and Wait for your Order tobe Delivered
We will handle the rest after we receive confirmation of your order. We'll start producing and packaging your order as soon as possible. Once it is packaged, we will ship your order, and our dependable couriers will quickly deliver it to you.
#4.Frequently Asked Questions
4.1 How long will it take to process and deliver my order?
The type and quantity of diamond painting products you ordered will determine how quickly your order is processed.
We use reputable couriers to deliver our goods. Once we give your packaged orders and shipping information to our couriers, they provide us with an estimated delivery date and package tracking information.
Our clients are always kept up to date. We'll email you updates on processing times, shipping and tracking information, and any delays in any of those things.
4.2 Is there a minimum purchase requirement for wholesale orders of diamond painting?
Yes, to be considered a wholesale order, you must order at least 50 pieces of diamond painting.
4.3 I want to change my order a little. After I've already placed my wholesale order, can I still do that?
Regrettably, no. We begin processing your orders as soon as you place them to guarantee a quick delivery time. This means that once you place an order, we are unable to change it.
4.4 After the order has already been placed, can I change my shipping address?
After placing your order, you can change your shipping address, yes. We package your orders and deliver them to outside couriers. If you ask us to change your shipping address before we've already delivered your order, we can make the necessary adjustment.
4.5 What type of guarantee do you provide?
Our diamond paintings come with a 180 day quality guarantee, so you can feel secure placing an order.