#1 why & what is diamond painting art?
"I started diamond painting this summer to get rid of the pain from shoulder surgery. It's effective and reduces the use of painkillers! It used to take six months to recover, but now it only took me three and a half months, and I'm still doing diamond paintings
I spend some time every day making diamonds while listening to music. So relaxed!!"
This is a comment from a diamond painting enthusiast, from which we can know that it will make you feel relaxed and relieved in the process of making it.
A diamond painting is a Mosaic. It's a hobby that involves attaching shiny plastic particles to a pre-glued canvas to create a painting that requires no artistry and is a fun and easy way to create beautiful things.
#2 How to make diamond painting art for newbie
All the material you need (we called diamond painting kit)
1. A canvas with patterns 
2. Diamond particles of different colors 
3. Pens and other tools for sticking diamonds to cloth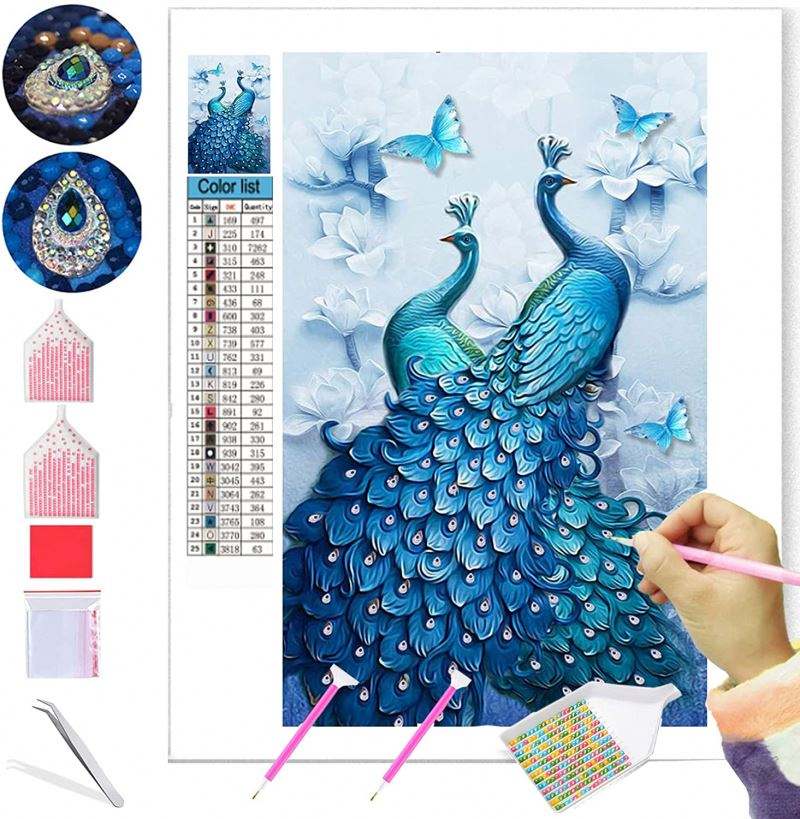 You need to follow the number on the canvas to find the diamond bag that matches it
Pour the diamond particles into the toolbox and place the corresponding diamond in the corresponding area of the canvas with the point drill pen
The process is so simple that an adult or a child can do it on their own
#3 what is 5D diamond painting & 7D diamond painting 
You may check on eBay or Amazon and know there is 5D & 7D diamond painting, so what is their difference?
A 5D diamond has 5 facets on each side and 15 facets on one diamond. 5D diamonds come in two shapes, square and round. If a painting is made with a full 5D diamond, the result will be fuller and easier to highlight details。
7D diamonds are special-shaped diamonds of different shapes, different sizes, and different designs. 7D finished paintings are not full of diamonds, and the effect of the painting is more three-dimensional and high-end.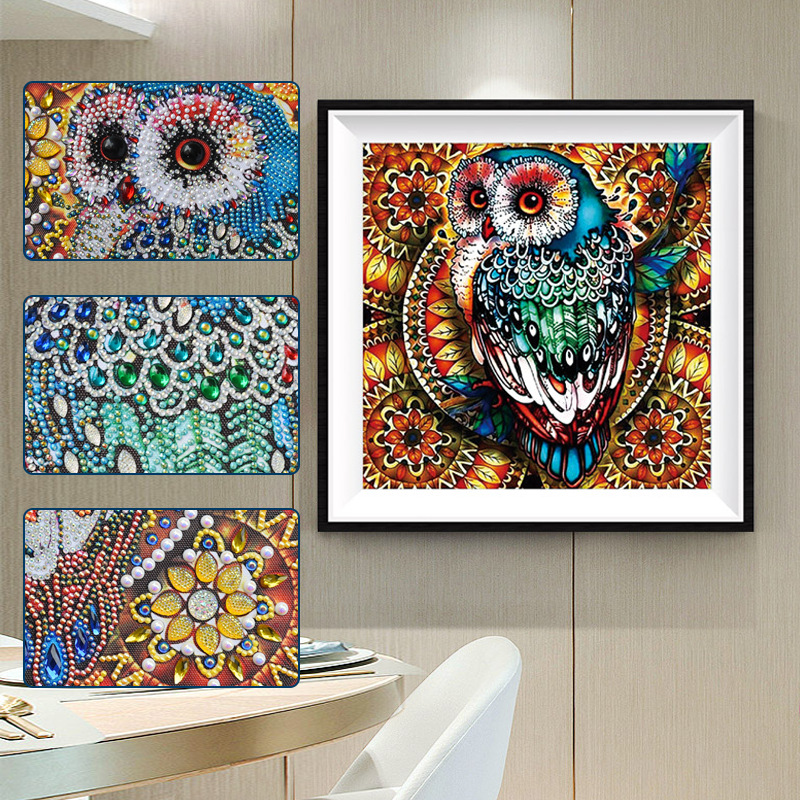 #4 the diamond painting art is for kids or adults?
Here I will share a story.
As office workers, we are always so busy that we neglect to spend time with our children, and even have some time that we don't know how to spend time with our children. Once WHEN I was choosing a toy for my child online, I saw a diamond painting, because it was described that this product could relieve pressure and enhance the parent-child relationship, so I bought it as a gift for my child. The child is only 6 years old and very young so I'm going to spend some time every day with the child to finish our work together.
At first, I according to the design of the above logo to step by step guide her to do, but I found that she always likes to spend red yellow, the color of green grass, and even the "E" in the "M", I think he broke the picture at first, but the child told me that this is his work, I think he said seemed quite reasonable, He was using his ideas to complete the painting, and I stopped blocking him and tried to encourage him. As a result, he made several works that I thought were very successful.
Now we often take our children and family to make diamond paintings together, so that our family becomes more harmonious.
Did you get the answer now
#5 where and why to find a good diamond painting factory?
When looking for diamond painting supplies, you can either visit a retail arts and crafts store or buy yours online.
Usually, we can get it from Amazon or eBay or some other website to make it easier
If you want to buy more and customize your pattern design, you must find a factory that can have independent design and production as your partner.
Benefits: Choose a good diamond painting factory to work with
1. who can design patterns, packaging, and produce different styles according to your requirements.
2. Protect your design from the market
4. Have enough import and export experience so that your goods can safely arrive at the destination, Can provide one-stop service from design to production to transportation, can save cost and time.