There is one item, When you complete this process, you will feel relaxed and free yourself from the everyday stuff, enjoy the creative process and realize your creative potential.
You end up with a complete painting that you can hang on your wall, put in your bedroom, or even give to your friends as a gift.
It is Painting by Number.
#1 What is painting by number
Painting by Number is a cardboard canvas or wooden panel that has a numbered drawing on it and people just cover it with the numbered paint。
#2 How to paint in numbers by painting?
2.1 Use enough paint to cover the numbers, but not so much that the paint runs to other areas.
2.2 Using each color, start in the middle of the image and work outward so you don't miss anything.
2.3 Start at the top of the canvas to prevent smudging and keep the dry paint on your hands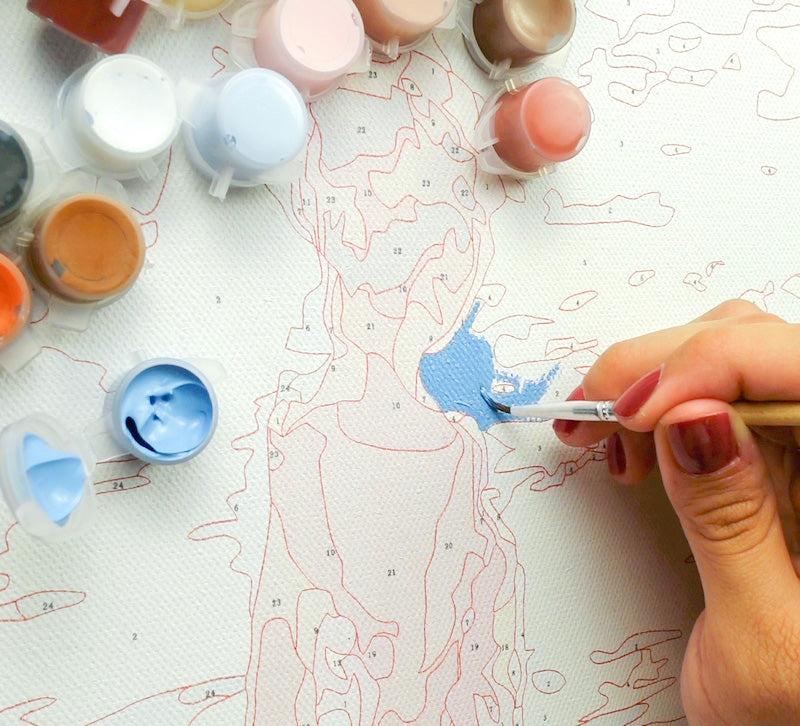 5 tips when you paint it
Start small: On your first day, draw a small area and let it dry. Come back some time to see how the paint dries — and if you're applying too much or too little paint. Then adjust accordingly
Use only one color at a time: We can select a color first and fill the color with a relatively small area, which can prevent us from staining the canvas with more colors in the process of making
Apply lighter colors as thick as possible: If you apply a thin layer of paint to those lighter colors, once it dries, you'll be able to see the printed numbers on the canvas. So apply a thick layer of color right from the start. Don't worry about running out of paint, as each product comes with more than its share of paint
Take breaks: Don't try to do too much at once. When you try to do too many things at once, you may inadvertently stain wet paint. Especially when drawing super-small areas, it will make the eyes feel tired, so you must take a proper amount of rest
Keep guides: If your kit comes with a reference sheet, keep it safe. Don't think you need it, sometimes you only draw a section with a partition and then find a blank area with no numbers!
So we can pull out our guides to check for missing numbers. This will help us now.
#3 Benefits of Number oil painting for beginners
Painting by Number is a great way to get started. Especially those who can't draw and have no drawing skills. We know how intimidating a blank canvas can be! Digital oil painting is to make difficult things simple so that all people can achieve their complete clothing painting. Digital painting provides you with the cornerstone to start your artistic journey so you can unleash your creativity in a stress-free environment。
#4 The benefits of digital oil painting for children
painting by number allows children to exercise their hand-eye coordination and develop their fine motor skills. Holding a brush, rotating the mix of paint, and trying to paint steadily within the lines all help develop skills
painting by Number can also be a better teaching tool
Learning art can be daunting when your child is just starting, which is why painting by Numbers can help them. They don't need special skills, just to know how to hold a brush and mix colors where needed. It takes the pressure off developing children's artistic skills. Over time, the child becomes more confident in his or her ability to handle more complex designs
painting by number can help children learn patience and how to follow instructions to make a finished product. Children learn how to develop strategies to get the best end product, such as painting from the top to avoid smudging or using different brushes for different colors. Understanding and following sequential instructions apply to every area of their lives.
#5 Is the paint in the painting by Number safe?
When you buy a painting by Number from a supplier, you can ask them if they have the test report for the paint, normally they will have the test report CE and EN71.
The report will test and issue the element content to ensure it is safe to use by kids and adults。